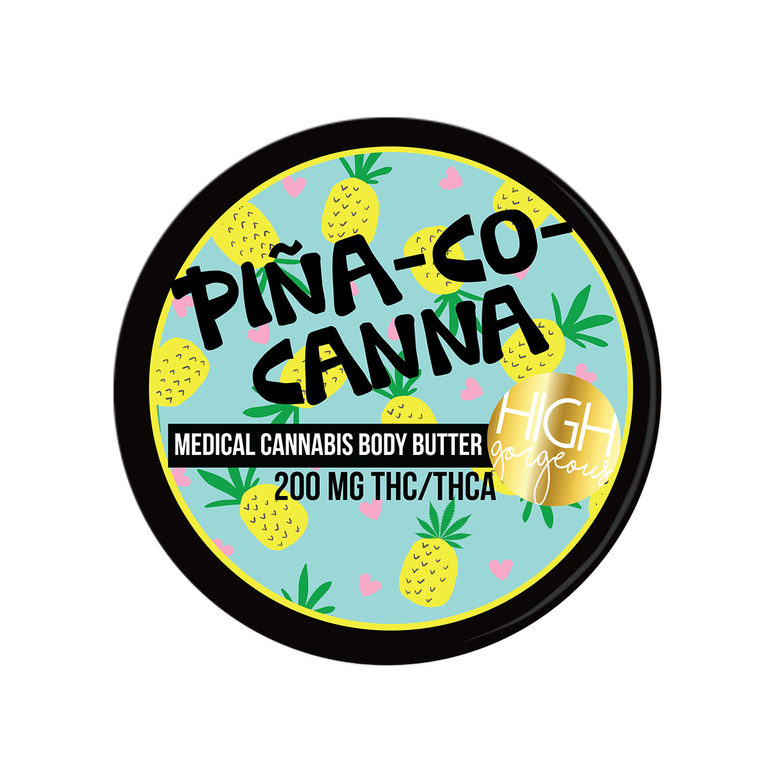 PIÑA-CO-CANNA Body Butter

200mg THC/THCA
$45.00
High Gorgeous packs the essence of the islands in Pina-Co-Canna Body Butter. This mega-moisturizing body butter contains 200 mg of THC and THCA that soothes muscle aches and pains. Take the spirit of Pina-Co-Canna wherever you go for the fresh scent of sweet paradise.
High Gorgeous Sugar High Body Lotion delivers oh-so-sweet relief. Sugar High contains soothing cannabinoids that offer therapeutic benefits, along with a warm vanilla scent that will melt away stress and pain. Each bottle is infused with 100 mg of THC and THCa.
PLAIN JANE CBD  Body Lotion

100mg CBD
$60.OO
Plain Jane by High Gorgeous is a medical cannabis body lotion containing 100 mg CBD. Soothe the pain and skin with this natural, unscented, infused body lotion.
VANILLA ALMOND Body Lotion
100MG THC
$35.00
100mg THC Warm vanilla scent Pain relief, reduces inflammation, seals moisture into seal *Paraben-free, Vegan-friendly AVAILABLE
CBD SALVE / balm pain relief

NEW LOWER PRICE !!
$12.00
THC SALVE/ balm pain relief

NEW LOWER PRICE !!
$12.00
MELT 1:1 Pain Relief Lotion

200mg
$70.00
MELT/ CBD Pain Relief Lotion

100mg 2oz
$60.00
Relax Mood Bath Bomb

1:1 50mg
$13.00
Awaken Bath Bomb

1:1 50mg
$13.00